Get 50% OFF Today Only!!!!!!
🎁 🎁 🎁 🎁 🎁
The Flex Gun PRO by Luxury Body Fitness is the number one professional deep tissue massage gun that is effectively proven to relieve muscle tension, soreness, and pain. Perfect for athletics, gym rats, and anyone who love's working out.     
 Flex Gun PRO Percussion Massage Gun was built to reinvent the massage experience, giving everyone the ability to Move Better. Professional deep tissue massage device to effectively relieve muscle tension, soreness & pain. After an intense workout, the Flex Gun  PRO works deep to relieve soreness, improve muscle strength, flexibility, performance, and speed up recovery. Adjustable arm & ergonomic multi-grip for a full-body reach, easily treat hard-to-reach areas with 3 adjustable arm angles and unmatched ergonomic handle design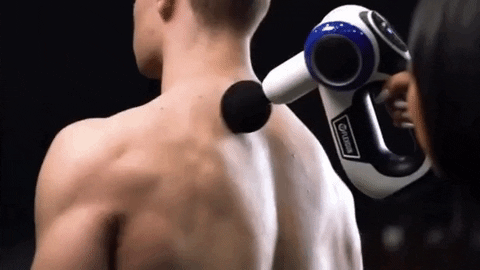 - Full Body Recovery Deep Tissue Professional Massager 
Enhances Performance & Pain Relief. We built the Flex Gun  PRO sports massager specifically to boost athletic performance, so you can train faster and harder. Lay back, relax, and breathe as your sore muscles and painful knots melt away under the intense percussive massage. The deep vibration penetrates the pain points and offers long term relief.
- Targeted Muscle Relief To Improve Performance 
CrossFit, Running, Weightlifting, Boxing, Cycling, and Climbing can all lead to sore and stiff muscles. Percussive massage enhances muscle strength and improves muscle recovery. You will feel like Flex Gun  PRO really brings life back into those muscles so you can resume your favorite activities without constant pain. It also increases blood circulation to bring more oxygen and nutrients into the muscle, reducing muscle fatigue, and soreness. Significantly improve your athletic performance.
- Stroke Length 0.47" - 12mm 
The intense strokes vibrate deep inside each of your muscle groups. It is engineered to help break down knots, increase blood flow, and release stored lactic acid. Perfect for post-workout myofascial release and even pre-workout relaxation.
- 4 Speed Strength Levels 
This allows you to get the right and appropriate amount of pressure to relieve your muscle pain. Powerful Percussion Massage Tool - 1200/1800/2400/3200 rpm percussion motor 20-54 reps.
- Customize Your Massage 
5 interchangeable heads attachments. Promotes circulation, improves range of motion and helps accelerate warm-up and recovery.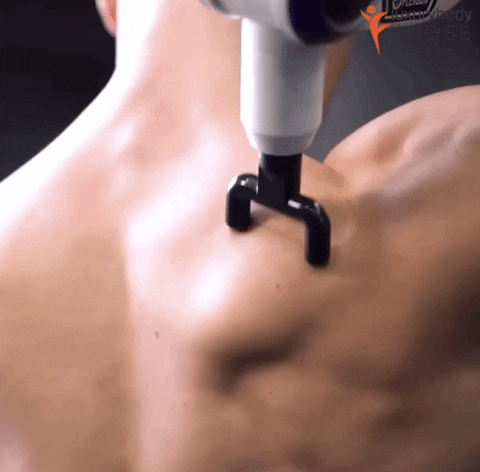 - Quiet & Powerful Brushless Motor 
Quieter than ever Massage Gun uses the latest technology to achieve a stunning low-noise level without compromising its strength. Enjoy meditation therapy that will bring you a thoroughly soothing and relaxing experience.
- Ergonomic Design 
Full-body reach, 90 degrees rotatable & 3-angle adjustable arm with multiple holding positions
- Strong and Comfortable Grip 
Convenient single-handed operation with a comfortable grip. The handle is soft & easy on the hands, and at the same time the grip is solid and comfortable
- Long Battery Life 
Last up to 4hrs on a full charge. No need to change batteries. Fast charging, fully charged in 90 minutes
- Storage & Protective Carrying Case This hard carrying case will keep your Flex Gun PRO massager and all accessories safe.
 WITH Flex Gun Pro, YOU'LL GET:
ERGONOMIC DESIGN AND PREMIUM SOFT MATERIAL - the Flex Gun PRO has an ergonomic design as it has 5 different heads that provide different kinds of massages. You can reach the whole body with it as it has an extendable arm and 90-degree rotation.
VERSATILE VIBRATION AND BRUSHLESS MOTOR - the Flex Gun PRO has 4 strengths of vibrations according to your choice. The brushless motor makes sure to reach the depth of your muscles and relieve post-workout stress.
LONG-LASTING AND RECHARGEABLE BATTERY - the Flex Gun PRO can easily work for 3-6 hours and also has a rechargeable and portable battery which can charge in 90 minutes only, meaning you can take it along with you on long trips and smooth off any fatigue.
EXTENSIVE FUNCTIONALITY - the Flex Gun PRO increases performance, blood circulation, muscle recovery, relieves muscle pains and soreness, reduces muscle fatigue, breaks down muscle knots, helps in a warm-up before any strenuous exercise and relaxes the body.
So, what are all of you hard-working people still waiting for? Grab your Flex Gun PRO NOW! 
Flex Gun Pro
Special 50% Offer: $159.95

Flex Gun Pro, It's available at a discount price for a limited time only!!
Get yours today to lock in a special offer before the price goes up!!!