Get 50% OFF Today Only!!!!!
🎁 🎁 🎁 🎁 🎁
Broaden your shoulders and develop muscle strength and endurance with the exclusive Expander Resistance Bands by Luxury Body Fitness.
Do you feel that your shoulders aren't broad enough? Do you want to tone and expand your chest? Are you trying to increase flexibility in your muscles? Do you want to build strength in your body?
Worry no more! We have the solution for all your needs. Expander resistance bands are available at Luxury Body fitness which is not just high-quality but also quite affordable.
Expand your chest and shoulders:
The most prominent benefit of expander resistance bands is that they help in expanding your chest and shoulders giving you the broad tough figure that you want.
Building strength:
A specific amount of force is exerted on each of your muscles which can be used for strengthening both upper and lower body.
Helps in Pull-ups:
Expander Resistance Bands from Luxury Body Fitness can likewise assist you with working up to doing pull-ups. Circle them around the draw up bar and spot your foot or knee inside the band to give your weight some help while you do your training.
Enhancing Mobility:
They are an incredible method to enhance muscle flexibility, yet joint mobility can also be increased by their use.
Helps in injury:
These are best for those who are getting better from any kind of injury. As they don't put pressure as weights do, your joints and everything else remains safe.
However, the biggest difference is that the resistance bands do not depend on gravity as do free weights. Instead, you are working against the strength of the single gang. This may seem easier, but it means that you are working against resistance throughout the exercise, not just during the part where you are moving against gravity. The Expander Resistance Bands by Luxury Body Fitness are similar to free weights except for the difference that the bands do not depend upon gravity. Rather they depend on your body mass, making it easier to exercise. When you push against a resistance band during an exercise, your muscles must engage to combat tension. One of the main benefits is to increase and strengthen the natural movements used in daily activities. To work on strength, do fewer repetitions, with greater resistance. For resistance, do more repetitions, against less resistance.
Never pay for a gym membership again. Workout with the comfort of your home.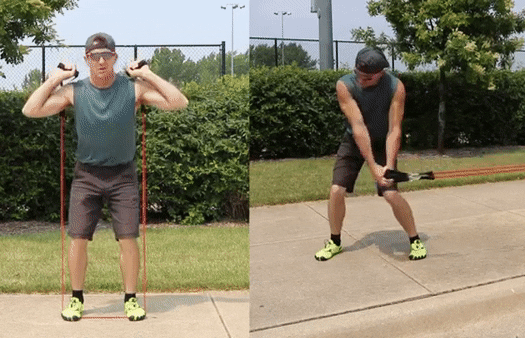 WITH Expander Resistance  Bands, YOU'LL GET:
MADE FROM DURABLE AND STRONG MATERIALS - the bands themselves are made of sturdy natural latex that is easily stretchable and completely unbreakable. They are secured to the non-slip handles by metal carabiners that make stretching and other exercises extremely secure.
USED FOR ALL KINDS OF EXERCISES - the Expander Resistance Bands can be used for all kinds of body-building exercises such as for back, neck, arms, feet, and legs. You can also secure them easily to any door or wall for enhanced muscle and joint flexibility. They can also be used to recover from any physical injury such as back and joint injury to reattain your mobility for everyday life.
CHOOSE THE MOST SUITABLE BAND FOR YOUR BODY - the Expander Resistance bands are divided into several colors which differ for all body types. They include yellow for beginners or older people, green for light exercise, red for medium, blue for a heavyweight, and purple for ultra-heavy muscle building. Determine the right color for your body by doing at least 20 repetitions.
 Go and get your Expander Resistance Bands by Luxury Body Fitness NOW!
Expander Resistance  Bands
Special 50% Offer: $45.49

Expander Resistance  Bands, It's available at a discount price for a limited time only!!
Get yours today to lock in a special offer before the price goes up!!!