Get 50% OFF Today Only!
Listen to songs or audios, receive calls, workout, and watch videos easily with the Bluetooth Wireless Smart Earbuds and use them comfortably with its new and improved ergonomic design and noise cancellation technology.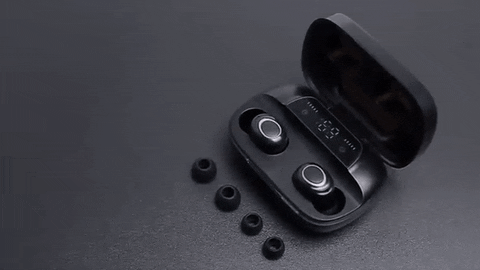 The new and advanced Bluetooth Headphones provide high-quality sound and retain the original audio. the smart Earbuds have a CVC8.0 Digital Noise Cancellation technology that removes any racket from outside.
Another attractive feature of these Earplugs is the implementation of new and improved Bluetooth 5.0 technology which provides faster connectivity, clearer sounds, and a more stable connection which makes sure that you can enjoy high-quality HIFI sounds.
Headphones and earplugs are generally uncomfortable to wear and may cause pain to your ears after wearing for a while. However, these earplugs have a great ergonomic design which can fit easily in the ear. Also, it is made of soft silicone material which is soft to the touch and adds to the great wearing experience.
The case of the headphones is designed in a way that it has multiple grooves on it, making it easier to hold your cellphones with the help of which you can watch videos all day long without the cellphones falling.
WITH Smart Earbuds, YOU'LL GET:
PREMIUM QUALITY SOUND SYSTEM - the Bluetooth earplugs have a high-quality sound system, 108 DB sensitivity, and a premium quality HIFI bass system which makes sure you can listen to high fidelity sound all the time.
NEW SMART DIGITAL DISPLAY - the case of the Bluetooth earplugs have a smart digital display which shows the volume control and battery life. Its cold light does not hurt the eyes and is perfect for darker environments.
LONG BATTERY LIFE - the most attractive feature of these earplugs is its long battery life. It has up to 80 hours of battery life and up to 1 month of standby time. This battery can also act as a power bank for your phones.
AUTOMATIC CONNECTION - there is no need to manually shut down the earplugs after you are done using them. Just simply put them back in the case for Bluetooth to shut down. When you take them out again, the earplugs will automatically turn on and connect with your device.
ONE PACK OF EARPLUGS, TWO DEVICES - the earplugs can be used separately by connecting them to two different devices. You can also use them binaurally by connecting them to a single device and enjoying premium sound quality.
Smart Earbuds
Special 50% Offer: $34.95

Smart Earbuds, It's available at a discount price for a limited time only!!
Get yours today to lock in a special offer before the price goes up!!