Get 50% OFF Today Only!!!
🎁 🎁 
This revolutionary Smart Neck Massager will relieve your neck and shoulder pain within a couple of minutes. Smart Electric Neck and Shoulder Massager is the ideal pain relief tool with 15- step force adjustment and 3 massage modes which you can wear anywhere you want. Perfect for people who are looking for relaxation after a long day of work.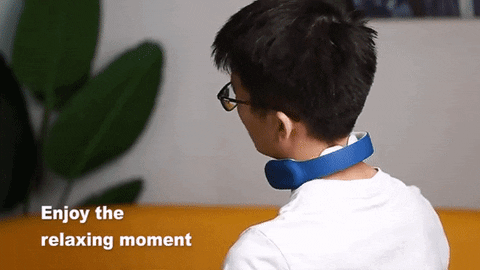 Smart Electric Neck Massager is the ideal tool for relaxation and pain relief whenever you are working long hours in the office. It uses a low cycle pulse technology that easily penetrates the skin and massages your pressure points to relieve the pain. You can wrap it easily around your neck. The Elastic Arm technology is durable and its neck design is suitable for different neck sizes of people.
The material used for massage has no allergens and can be used by people of different skin types. Its balloon technology adds to the comfort and makes sure that there is no rash or weight on your skin and you can only feel the comfortable massage, draining all your pain away.
The Smart Electric Neck Massager is available in 3 exciting and versatile colors of white, blue, and pink, making it an ideal health tool for both men and women.
WITH Smart Neck Massager, YOU'LL GET:
INSTANT PAIN RELIEF - the Smart Electric Neck  Massager provides relief with its low-pulse technology, which applies pressure 3-5 cm below the skin to the pain points. the massager also has a hot compress at 42 degrees which, after relieving pain can relax muscles and joints, and increase blood flow.
MULTI-MODE MASSAGES - the Smart Electric Neck Massager is liked majorly due to its 15 - step force adjustment. In addition to that, it also has 3 modes of massages which include Acupuncture and Moxibustion Mode, Knocking Mode, and Massage Mode. You can select the one you like and relax your muscles wherever you want.
LONG-LASTING BATTERY - the Smart Electric Neck  Massager has a built-in lithium battery that can be recharged with a USB cable. It is easily charged up within 2 hours and can be used for 15 minuter every day for a whole month. The battery capacity is 1600 mAh.
REMOTE SWITCH - rather than pressing buttons without knowing where they are on the Massager, the Smart Electric Neck and Shoulder Massager have a remote switch with which you can easily control the heat and power of the massager.
SIZE AND WEIGHT - the Smart Electric Neck Massager has a size of 5.59 x 5.43 x 2.36 inches. It has a minimum weight of 160 grams which makes it easier to be placed around your neck.
Smart Neck Massager
Special 50% Offer: $44.95
Smart Neck Massager, It's available at a discount price for a limited time only!!
Get yours today to lock in a special offer before the price goes up!!