Get 50% OFF Today Only!! 
Get fresh juice and smoothies everywhere you go with the new Portable Blender with its strong metallic blades and plastic body.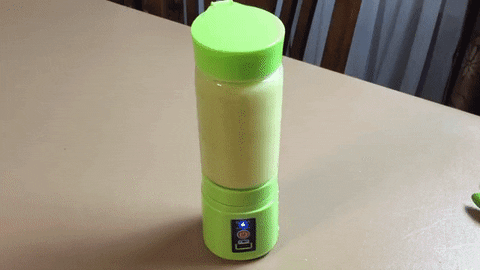 This Portable Food Blender is a revolution in the world of food processors. It can be easily used anywhere you want and is easily charged by a USB cable. Just add your favorite fruits and water and press the button. The Portable Food Blender is a great accomplice of players and people who are interested in exercising.
The functioning of the portable food Blender is no rocket science. Just charge it up to 8 hours before use. With fruits or vegetables that are hard, such as carrots or apples, add a bit of water. Otherwise, for fruits or vegetables, such as watermelons or cucumbers, no water is needed at all. Another thing is to make sure that the cup is not overflowed and the cup is tightly set into place. Just make sure to take care of these little things and you are good to go.
The blender is available in 4 versatile and exciting colors of pink, purple, green, and blue.
WITH Smart Portable Blender, YOU'LL GET:
HIGH-QUALITY DURABLE MATERIAL - the Portable Blender is made of high-quality food-grade PC material. It also has a food-grade rubber seal which makes sure that there is no spilling of the contents. It also has 4-6 strong stainless steel blades that blend everything into a smooth consistency.
HIGH HORSEPOWER - a good blender always has a powerful motor. the Portable Blender knows this and has a strong motor with a high speed of 22,000 rpm and 180 W power.
PORTABLE BUT EFFICIENT - you can take your portable blender anywhere you want thanks to its great compact design. It has a sturdy handle like a strap that you can carry or even hang on your bag. The blender also has a filter layer to filter seeds and slag.
BLENDER SIZE AND CAPACITY - the Portable Blender has a diameter of 8 x 22.5 cm. It has a net weight of about 460 g, making it easier to carry around. Also, the blender has a juice and smoothie holding capacity of about 380 ml.
VERSATILE USAGE - the Portable Blender is not only used to make great and fresh juices and smoothies but also baby fruit juices, mixed juices, fruit facial masks, and milkshakes.
Smart Portable Blender
Special 50% Offer: $39.99

Smart Portable Blender, It's available at a discount price for a limited time only!!
Get yours today to lock in a special offer before the price goes up!!!